Upcoming Events

WE HAVE RELOCATED

Squeaky Clean Comedy has moved to Dave & Buster's! Thanks for all your support for clean comedy. Now you can enjoy in a family friendly place.
Get your tickets here
Love, Peace and Chicken Grease!
Squeaky Clean Comedy! A great way to release your stress at the end of the week. This 90 minute show is packed with high energy stand-up comedy without offensive language or content. Ages 16 & up welcome. Hosted and produced by Mel Austin with Laughing To Success Entertainment
www.Laugh2success.com
. Music by DJ Raul. See you there!
Doors open at 7 pm, seating is limited, so get your tickets online now.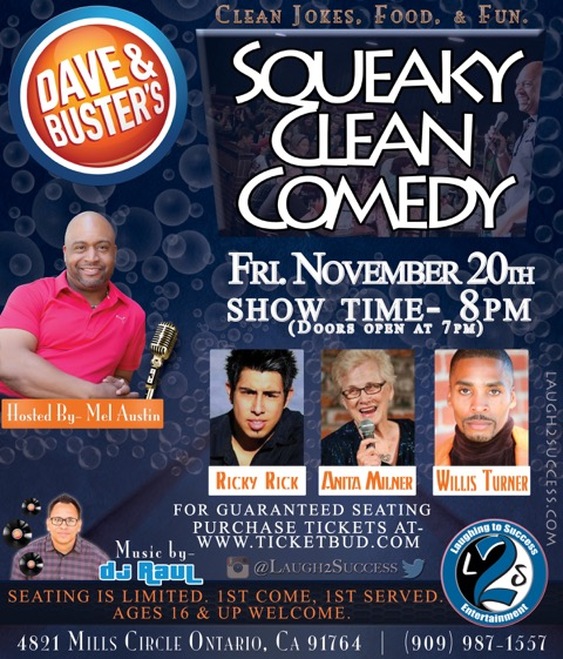 ---
COMEDY CLASSES

Learn to command any audience, any size and have a great time while doing it. Come join me for the next (4) Wednesdays, beginning September 2nd, 2015, in Fontana and learn how to speak with power, confidence and fun. Public Speaking Through Stand Up Comedy @ Fontana Community Center on Wednesdays from 6 to 8pm. 4 weeks, $40 total. What a deal! Come early to pay at the front desk and get ready to laugh your way to success.

Come learn how to command the stage with your own unique personality. You will learn how to write and structure jokes for maximum laughter, learn confidence building exercises, and perform with all your heart. Bring a notebook, a good attitude, an open mind and you'll learn to perform like a pro. Guaranteed a fun class! Instructor: Mel Austin| Location:FCSC For more information, call Fontana Community Services at (909) 349-6900.
September 2nd Time: 6-8pm

---

Are you going? Tell your friends: Tweet